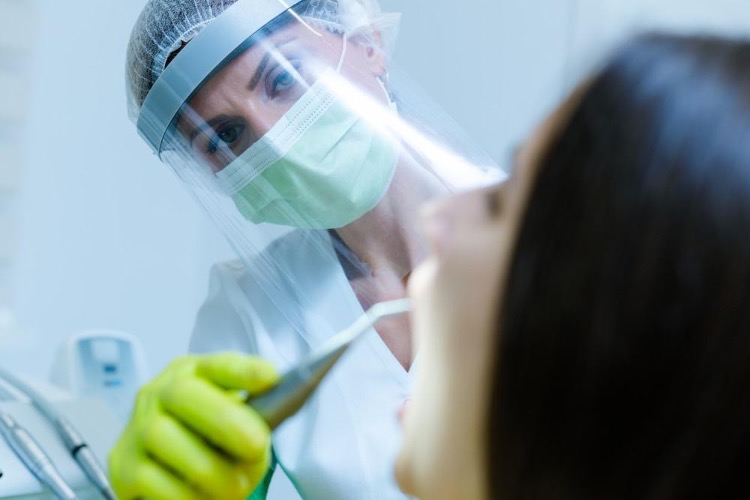 We've been getting many phone calls about the safety of going to the dentist during COVID-19. And with good reason. The thought of being so close to another person's mouth and nose creates a high-risk environment. The difference lies in how well a dental office protects your health.
Here at Mosaic Dental, our doctors and staff have taken such extensive precautions to ensure our patients' and staff's safety. You have a higher chance of becoming exposed to COVID-19 in the grocery store than in our dental office. We make it easy for you to maintain your dental health during these difficult times.
We've changed our cleaning and equipment protocols
We're strictly adhering to the safety protocols, and recommendations set out by the Centers for Disease Control and Prevention, the American Dental Association, and the Virginia Dental Association. We've even gone beyond the recommendations to ensure your health and safety.
COVID-19 is spread via saliva and mucus as it's released into the environment when people sneeze, talk, or cough. Because these particles are unavoidably present in the air during dental work, we've reduced air transmission by taking the following precautions:
Keeping our dental equipment extra sanitized
We commonly use rubber dams and intraoral suction devices to block droplets from exiting your mouth.
Personal protective equipment for everyone
All of our staff members wear personal protective equipment to ensure your safety. We always have our masks, face shields, gowns, and gloves on. Additionally, we ask all of our patients to wear a facemask until they get to the dental chair.
If you can't wear a mask for medical reasons, please let us know so we can take extra precautions to ensure everyone's safety.
We've upgraded our HVAC
We upgraded our heating, ventilation, and air conditioning system with MERV 13 air filters, which capture airborne viruses. The system completes over 12 air changes per hour.
In addition to these new COVID changes, we're also maintaining our high cleanliness standards for the office. All dental offices follow universal safety standards to prevent the spread of germs and bacteria.
Changes in scheduling for optimal social distancing
We've made a few changes to our scheduling policies to ensure your safety as well, including:
Pre-appointment screenings
Designated office entrances
Temperature screenings
A limited number of patients
A streamlined billing process with remote payments
With all of these changes and extra precautions, we're doing everything we can to ensure your dental health and safety during COVID.
Maintaining hygiene at home during COVID
Though it's essential to see the dentist, half of the battle lies in maintaining proper oral hygiene at home.
In addition to brushing twice a day and flossing once a day you'll want to take these additional tips for optimal oral health:
Be sure to brush your teeth for a full two minutes
Brush after every meal and before bedtime
Brush or scrape your tongue
Use a fluoride toothpaste
Change your toothbrush after you've been sick
Change your toothbrush every 3 to 4 months
If you or someone in your household has been sick, you can clean your brush in a UV sanitizer, or disinfect it by soaking it in 3% hydrogen peroxide or an antibacterial mouthwash.
For more information on dental care during COVID, call us or make an appointment right on your website today.